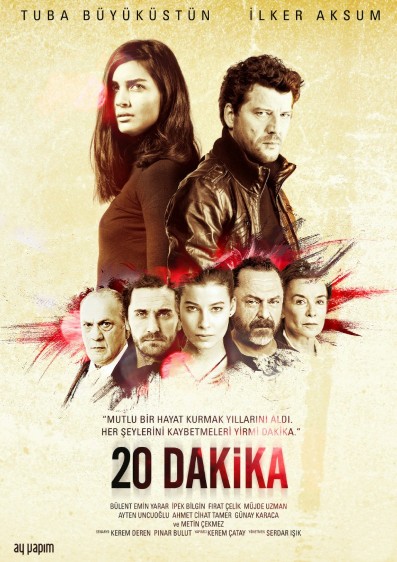 Director: Ali Bilgin
Screenwriter: Kerem Deren - Pınar Bulut
Stars: Tuba Büyüküstün, İlker Aksum, Fırat Çelik
A POLITICAL DRAMA
FULL OF SUSPENSE AND INTRIGUE.
20 Minutes tells the story of the mild-mannered history teacher Ali, who is thrown into a world of action and intrigue when his beloved wife Melek is arrested for the attempted murder of a young man – Kerim. Ali must abandon his books and find inner strength and courage that he did not know he had, in order to free his wife and reclaim his family life.
At the 42nd International Emmy Awards, 20 MINUTES has been prenominated for the Best Series category.
TUBA BÜYÜKÜSTÜN
NOMINATED FOR "BEST PERFORMANCE BY AN ACTRESS"
İLKER AKSUM
PRENOMINATED FOR "BEST PERFORMANCE BY AN ACTOR"
20 MINUTES
PRENOMINATED FOR "BEST SERIES"
The series magnetized audiences from all around the world, from Sweden and Hungary to Iran, Pakistan and Ethiopia.
Tuba Büyüküstün is the most popular Turkish actress in the Middle East.
20 Minutes has been sold to 55 countries, including;
Bahrain, Algeria, Djibouti, Morocco, Palestine, Iraq, Iran, Qatar, Kuwait, Libya, Lebanon, Egypt, Mauritania, Somali, Sudan, Syria, Saudi Arabia, Tunisia, Oman, Jordan, Yemen, Guatemala, El Salvador, Nicaragua, Costa Rica, Honduras,
The Dominican Republic, Afghanistan, Pakistan, Russia, Tajikistan Georgia, Kazakhstan, Equador, Israel, Ethyopia, Bolivia, Paraguay, Bulgaria, Sweden, Lithuania, Hungary, Romania, Moldova, Greece and Africa.
The format has been sold to Italy and Spain.
 

International Emmy Awards 2014
Nominee for "Best Performance by an Actress"
Tuba Büyüküstün
Gallery
Cast
Trailer